X-Cafe




Files and Program associations in winPenPack





Note:

X-Cafe

is a modified version of

C.A.F.E.

. Following this tutorial's publication, the program has been integrated into winPenPack (wPP 3.5.2 and later versions) and has been released in a modified version as an X-Software. X-Cafe is a customized and re-compiled version created to suite winPenPack's requirements. The main changes that have been made on X-Cafe (aside from a few GUI-related modifications) concern the cafe.ini file: at wPP start-up, the cafe.ini file is automatically configured to suite the wPP version in use. In this way, the correct file associations are made with the programs included in each wPP version.
C.A.F.E. (and therefore also the modified version distributed in X-Software format, X-Cafe) is a utility that allows temporary creation of file associations that differ from those set in the host PC, without modifying them: when Cafe is activated, double-clicking on a filename will open the file with a specific program. C.A.F.E. file associations are temporary and
the Windows registry is left untouched
. This tutorial aims at explaining how to integrate the X-Cafe utility into a
Personal winPenPack
, making sure that it opens automatically at winPenPack startup, and that it closes at wPP shutdown.
1 -
First of all, download X-Cafe from

this page
and save the zipped file into any folder on your PC, even on your Desktop: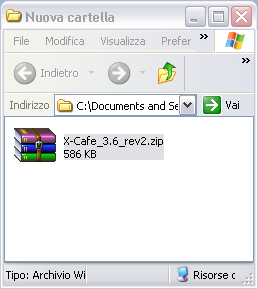 2 -
Install X-Cafe in the winPenPack Menu by clicking on "
Install X-Software...
":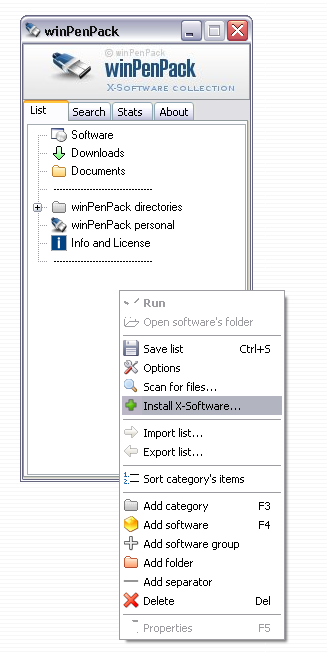 Go up!