Double-click on the winPenPack icon in your taskbar notification area to open the Configuration Menu. From it you can customize the Menu and modify any of the folders, categories and application data.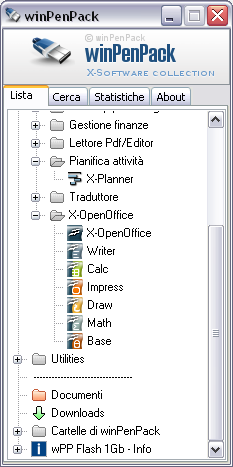 Pendrive Auto-run
If winPenPack is executed from a USB flash drive, the winPenPack menu will automatically create a hidden file called
autorun.inf
for flash drive autostart execution. This means that at startup the main menu automatically recognizes winPenPack folders which, in this case, must be located in the flash drive root folder (i.e. G:\, H:\). If, on the other hand, wPP is executed from your Hard Drive (that is, its folders are placed in a subfolder of the hard drive root folder), the autorun.inf file will not be created, as it is not necessary.
Note
: the
autorun.inf
file will be created at the first RE-RUN of winPenPack.exe. Therefore, it will not be immediately visible after winPenPack extraction/installation.
You can set the autorun at USB flash drive startup even if winPenPack isn't installed in the flash drive root folder, simply by modifying the
autorun.inf
file with a text editor (Windows notepad is perfect for the job). If, for example, you want to copy winPenPack in the G:\wpp folder, you will have to change the autorun file accordingly (see below):
[autorun]
action=wpp\winPenPack!
Open=wpp\winPenPack.exe
icon=wpp\winpenpack\User\winpenpack_launcher\icons\pen.ico
Example:

wpp_autorun.zip
Windows Autorun window for wPP: