Menu categories
In the Menu window, click on the item:

The Configuration Menu window will open:
In the upper section of the
List
panel you can see all the programs available in the suite divided by category. Each category has a gray folder as default icon.
In the second section you can see the
Documents
folder, the
Download
folder, the
winPenPack Folders
category and the
wPP Flash 2Gb [version number]
folder containing the whole documentation of the wPP suite.
In the lower part you can see the
File Associations
folder and the
Exit and remove USB
button.
Single-click on "+" to expand a category.
For example, click on the
Documents management
category.
You will be able to see inside items that refer to the different programs available in the suite, plus the (
PDF
and
X-OpenOffice
) sub-categories with their respective program labels: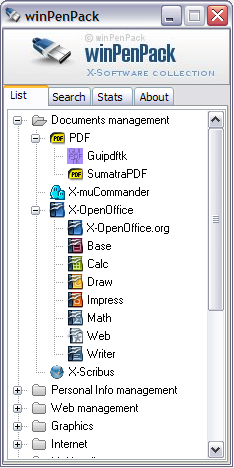 All information about categories, subcategories, programs and icons in the tree structure are saved in the
winpenpack.xml
file. This file is different for each suite and can be found in the following path:
winPenPack folders\User\winpenpack_launcher\winpenpack.xml
.